We're pleased to launch with Version 17 the Medpod virtual video visit telehealth solution from Henry Schein that will be accessible through MicroMD EMR.
The new solution will help practices to offer convenient visit options for patients, boost patient engagement and monitoring, and capture revenue for appropriate clinical visits and consultations. For those of you who may not be familiar with telehealth solutions, let's look deeper at emerging telehealth trends, use cases and how the Medpod solution can help you maximize access to quality care, enhance value-based care initiatives, and improve patient satisfaction and loyalty.
Telehealth Overview
HealthIT.gov defines telehealth as "the use of electronic information and telecommunications technologies to support long-distance clinical health care, patient and professional health-related education, public health and health administration. Technologies include videoconferencing, the internet, store-and-forward imaging, streaming media, and terrestrial and wireless communications." Telehealth refers to a broad spectrum of healthcare services that can be performed remotely and that are now embraced by patients and providers – and reimbursed by payers – more than ever before.
While the industry statistics vary, one thing is clear – telehealth utilization is on the rise. A Fortune Magazine article shared a projection of the number of office visits from the University of Rochester Medical Center indicating that a decline in physical visits and rise in virtual visits started to take shape back in 2015 with the number of virtual visits expected to outpace physical visits starting in 2024. The results from an American Well survey of 2,000 consumers reflects 66% of consumers are willing to use telehealth, 8% already have, and 64M consumers would be willing to their change primary care provider to one offering video visits. The study also points to the main drivers of consumer utilization as quick access, convenience, and cost. And providers are aligning with those needs and choosing to offer telehealth solutions for number of reasons, including attracting and retaining new patients, differentiating from other providers, driving patient satisfaction and loyalty, boosting care plan adherence, improving care quality, maximizing efficiencies, reducing the incidence and costs of hospital readmissions, and capturing revenue that can help balance out changing financials as a result of value-based care reimbursement.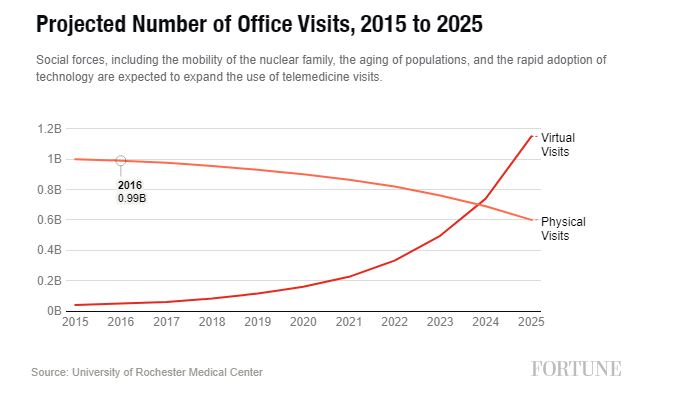 While telehealth and telemedicine come in many flavors, solutions are geared towards achieving similar outcomes, including empowering patient choice and convenience, engaging patients, improving outcomes, and helping providers maximize the transformation to value-based care across many specialties and use cases.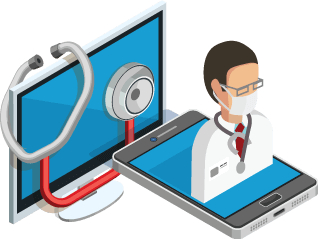 video visits
COMMON USE CASES
| | |
| --- | --- |
| | Home Health |
| | Remote Physician Access |
| | Physician Staffing/Loading Balancing |
| | OB Check Ins |
| | |
| --- | --- |
| | After Hours Care |
| | Second Opinions |
| | Remote Patient Monitoring |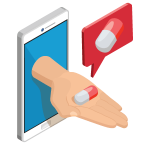 CONDITION MANAGEMENT
Medication management
Medicare CCM reimbursement
Treatment plan management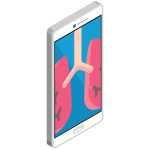 ROUTINE CONDITIONS
Allergies and sinus infections
Colds & flu
UTIs
Yeast infections
Upper respiratory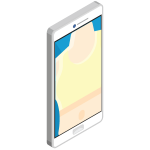 ROUTINE FOLLOW UPS
Wellness exams
Medication adjustment
Review abnormal lab results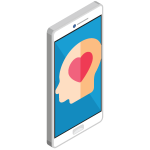 COUNSELING / BEHAVORIAL HEALTH
Behavioral health services
Weight loss management
Smoking cessation
How can virtual video visits benefit your patients and your practice?
The benefits that telehealth can provide to your practice are numerous and vary depending on your patient population, needs, and preferences, as well as the practice needs and goals. Both patients and providers can benefit from implementing a telehealth solution at your practice. Patients can benefit from shorter appointment wait times and the convenience of a remote visit while still being able to see and speak to their provider. Video visits can also improve access to care either for remote or rural populations or for patients with limited ability, mobility, transportation, or desire to travel to a physician office. Patients can see doctors sooner and access care they may not normally be able to. Providers can deliver care from multiple locations, helping to improve the immediacy of care and, ultimately, quality health outcomes. A video visit solution can also allow practices to treat more patients, reduce no shows, and boost billing revenue, all while offering patients highly desired schedule flexibility and/or on-demand care.
Why choose MedPod?
Medpod makes it easy for providers to easily connect with patients anytime, anywhere via a HIPAA secure video visit, document the visit in the EMR, and bill for the telehealth visit. The service is affordable and can be purchased two ways, either as a pay per encounter or an annual "all you can use" subscription, both with optional on-demand translation services. Medpod is integrated with MicroMD PM appointments for scheduling convenience and is accessible for providers to kick off visits by simply clicking a link right from their MicroMD EMR desktop to join patients in a customizable virtual waiting room and conduct the visit. Insurance eligibility, online payment processing, and payment transaction reporting  empower the billing team to ensure payment capture, billing according to payer requirements, and the proper application of payments.
As a browser-based platform Medpod is a provider-to-patient video consultation service that requires no software installation with the following features:
MicroMD PM appointment integration
Capture of chief complaints
Insurance eligibility
Online payment processing
Patient consents
Customizable virtual waiting room
On-demand video translation and interpretation services
Payment transaction reports