MicroMD Business Review Sessions.
Just one of many new initiatives designed to help you THRIVE.
Whether it was two decades ago or two months ago, your practice made the decision to invest in MicroMD. I can speak for the entire MicroMD team when I say that we appreciate the trust in that decision and we recognize that your investment in MicroMD was much more than just purchasing a software program to process claims or chart a patient visit. Your MicroMD purchase was an investment in a long term solution that is critical to your daily operations and patient care. More importantly, we understand that with your investment comes our responsibility, as a partner. We are committed to sharing in your long term success of implementing, adopting, and thriving with MicroMD.
As I write this article, this month I celebrate another work anniversary with MicroMD and I am very fortunate to be part of a dedicated, caring MicroMD team and proud to be part of Henry Schein, a global Fortune 500 company, that makes a difference for so many practices, and a difference in society through its Henry Schein Cares – global corporate responsibility program. Even though I stumbled into healthcare late in my career, it has been my favorite career and I find myself energized by the fast paced healthcare industry and just as passionate about MicroMD and our customers as when I started more than a decade ago. Reflecting back on how much has changed in our industry and the challenges that our customers have faced over the years, I am proud of how MicroMD and Henry Schein continue to evolve and provide more than a technology solution, but also business solutions, clinical solutions, supply chain solutions, and most importantly, a commitment to customer service which too many other companies have outsourced or devalued. The Henry Schein and MicroMD team understand that many patients rely on you every day and we are committed to insuring you can rely on us, as your trusted advisors, so you can get back to the business of healing.
Today your challenges running a practice are more complicated than ever and the common theme I hear when I talk with customers is that there is just not enough time in the day to keep up with everything on their own. Often, it is hard to carve out time to put a plan in place to proactively address changes in your practice, including regulatory changes, the shift to value-based care, and ever changing billing rules which leaves little to no time to even insure you are getting the most out of your MicroMD investment.
Over the coming months, our Account Sales Managers will be contacting every client to schedule a Business Review with your office manager, provider, or other key members of your team. Our goal in reaching out is to help you make time to create a plan. We ask that you carve out 20 minutes (60 minutes would be even better) just to have a conversation with your Account Manager. In order for us to be a better partner, we need to understand the needs of your practice. Then we can focus on helping you make the most of your investment.
During a Business Review the conversation may focus on:
What new initiatives does your practice plan in the next year? Whether it is a new location, a re-location, adding additional providers, or adding new services such as chronic care management, managed services, or telehealth, knowing what is ahead will help us be a better partner and support you in reaching your goals.
What challenges does your practice face on a daily basis?
What workflows in your office are inefficient or cause you heartburn? It is likely that we have talked with other offices that face similar challenges.
How do you use MicroMD? Are there workflows we can identify for improvement? The goal is not to go through implementation then "Go Live" and stop there. Some practices may have set up their workflows a decade ago and haven't had time to optimize the system or use advanced features or the new features, customizations, and tools MicroMD offers today. We will target helping you identify 2-3 short terms goals to boost your adoption, add a few key features into your workflow, leverage advanced RCM tools, improve clinical efficiencies, or improve patient outcomes. Sometimes we can identify a more efficient charting experience for providers to ease their burden and recapture more patient face time.
How can we be a better partner? One very important aspect of these business reviews is for our Account Managers to listen and understand how you use the MicroMD software, features that add efficiency that you find valuable, areas that could benefit from some fine tuning, and understand how we can improve your overall MicroMD client experience, and relay these valuable insights to the MicroMD team.
Are you up to date? We want to ensure you are receiving the proper communications from MicroMD, staying current on new versions, and highlight some of the new version features that you may not have had time to explore. Account Managers can provide a sneak peek into what is on the horizon for MicroMD and make sure your team is aware of learning opportunities and resources available to help your practice.
What is happening in the industry? We can share insights into the industry trends, what we are seeing on the horizon with healthcare, value-based care, and the newest tools and tactics to help ease some of the administrative burden practices face.
We are proud to be your partner on this journey and look forward to the opportunity to take a break from the daily routine, take time to discuss your investment, reflect on your current challenges, share insights, and together explore a path for what is yet to come.
About the author,
Lori Ryan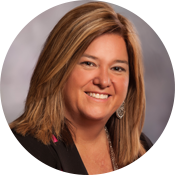 Lori is the National Sales Manager of Henry Schein MicroMD. She leads the internal and external sales team towards strategic goals to sell, demo, and quote our simple yet powerful MicroMD solutions.