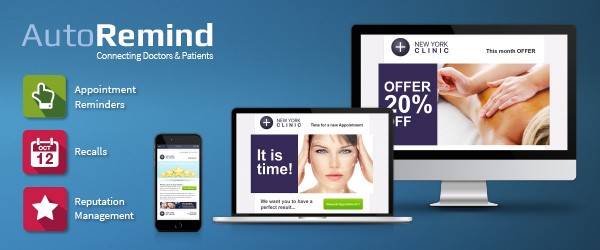 How are you communicating with your patients today? To improve your business, ensure that your patients arrive at their scheduled appointments, keep coming back for follow-up care and new patients find your practice online with ease. Using AutoRemind's Best Practice, learn how to maximize the potential of your patient data and automate these processes.
Appointment Reminders
Reminding your patient to arrive on time is nothing new. To reduce no-shows, the most effective strategy is sending a confirmation email, text message and voice call to your patient a week, three days, and one day prior respectively. Patients that confirm the first message will result in not being bombarded but more forgetful patients should be custom set with another courtesy text reminder the day before their appointment.
Patient Recalls
For practices that have regular appointments such as treatment plans or annual check-ups and exams, automating recalls can be crucial and extremely effective in generating new appointments. A great way to keep your patients coming back is to put a retention strategy in place. Identify these different appointment classes and then create automated campaigns to remind patients to schedule their future appointments.
Reputation Management
About three-quarters of patients use online reviews as a primary step in locating a new provider. An effective way to get feedback and reviews is proactively contacting patients to evaluate how their visit went. Make sure you conduct short surveys on what patients think could improve their visit and have good reviews published to review sites like Google, Facebook, Yelp to increase your online presence. As a result, new patients will have a better chance at locating you and you can ensure that your reputation is matching your actual patient satisfaction.
AutoRemind has partnered with MicroMD to help practices achieve efficiency through electronic communication. Want to learn the other great ways of staying connected with your patients? Schedule a quick and easy one-on-one webinar or visit our Best Practice page for more information.
Please reach out to your MicroMD Client Insights Manager, John Webb, with any questions. Contact John here!