MicroMD Interfax
Patient Communications
Web-based Fax Solutions
MicroMD Interfax is a MicroMD EMR-integrated outbound and inbound web-based fax solution
that allows practices to securely, efficiently and cost-effectively send, receive and manage
electronic faxes.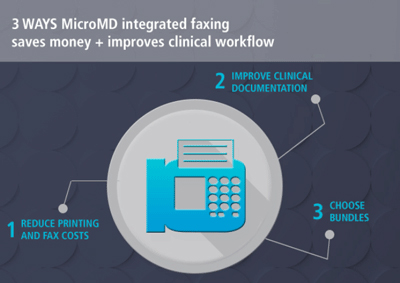 Reduce expenses and boost efficiency
Interfax allows practices to reduce expenses by eliminating the need for a traditional fax line. Users save on the costs associated with printing documents to paper and faxing with a traditional stand-alone paper fax machine, as well as eliminating the cost of fax equipment, maintenance, paper and toner. Since traditional fax lines are not required, Interfax also gives practices the flexibility to have multiple dedicated inbound fax lines to quickly and efficiently distribute faxes to multiple departments. Separate long, inbound faxes can be distributed to multiple providers.
Batch Basket in MicroMD EMR
MicroMD EMR users can utilize a new "holding area" for faxes, printed items and updates to the MicroMD Patient Portal. The new Batch Basket in MicroMD EMR is a time-saving feature that allows practices to print, send or publish multiple documents simultaneously. For example, a practice can choose several documents from a patient's chart and place them in the basket to fax as one document instead of individual documents. This feature allows the practice to pick and choose
various documents to combine in the basket to send at one time.
EMR-integrated inbound faxing
Reduce the time it takes to scan and file paper faxes. Interfax allows users to fax directly into MicroMD EMR so that staff can quickly view and assign a fax to a patient, as well as alert users to fax availability with just a few simple clicks.
EMR-integrated outbound faxing
Providers or staff can securely fax encounter notes and procedure and referral orders directly from MicroMD EMR to referring facilities and providers.
Secure faxing options
Inbound faxes flow directly into a secure MicroMD EMR inbox and users have the flexibility to establish a specific fax line for patient records to segregate important confidential patient faxes from other business-related faxes, all without the added costs of multiple fax lines.
Interfax packages
Select from inbound-only or outbound-only, or combine the two options for maximum efficiency. Monthly charges are determined by the volume of fax pages sent, so you only pay for usage. Interfax is packaged in bundles of 500 pages and you can adjust the number of bundles as volume increases or decreases, or add additional fax lines if desired.
Interfax – Fax Server – Fax Machine comparison:
Below is a comparison between the services offered by a fax machine, a fax server and the Interfax service.
| | | |
| --- | --- | --- |
| Fax machine | Fax server | MicroMD Interfax |
| Limited to making one call (inbound / outbound) at any given time | Limited to making calls according to how many lines are connected | No limit on the number of outgoing / incoming faxes at any given time |
| Requires physical line, hardware (fax machine), ink and paper | Requires physical lines, hardware (fax server) | No equipment required at client side |
| Requires purchasing a fax machine | Requires purchasing, configuring and maintaining a fax server | No maintenance and no configuration – registration is done in minutes |
| | Requires dedicated software (on server and client machines) to send / receive faxes | No software required |
| No redundancy (if machine breaks down, client loses capability to send / receive faxes) | Limited redundancy (in most cases, if there is a problem, client would not be able to send / receive faxes) | Full redundancy (internal problems in Interfax do not affect client's ability to send / receive faxes) |
| To send a fax, the client must physically be at the fax machine with the printed paper | To send a fax, client must be in the network that is connected to the fax server | To send a fax, client can be in any location that he can send an email to the Interfax system |
| Client is charged a line fee for the ability to send faxes | Client is charged a line fee for the ability to send faxes | Client is only charged for the cost of the faxes sent and nothing more |
| A fax that is received is printed next to the fax machine for all to see | A fax that is received is stored on the fax server and can be viewed by all administrators of the server | A fax that is received in Interfax is sent to a specific email address only |
| Dependent on local environment (power, availability of line, etc…) | Dependent on local environment (power, availability of line, etc…) | Not affected by local environment (inbound faxes will continue regardless of the situation at client location) |