Dragon Medical Practice Edition 2
with MicroMD EMR
Improve care efficiency.
Dragon Medical Practice Edition 2 offers virtually instant response time, saving clinicians valuable minutes in their day.

Reduce transcription and the cost of documentation.
Eliminate as much as $12,000 in annual transcription costs with speech recognition technology.

Spend more time with patients.
Increased accuracy means fewer errors to correct, which lets clinicians spend more time with patients, improving both quality of care and patient satisfaction.

Improve documentation.
Documentation with Dragon Medical speech recognition technology results in higher rates of reimbursement.
Dragon Medical Practice Edition 2 helps ensure
that clinicians document care more completely and "in their own words" within their MicroMD EMR software. Clinicians using Dragon Medical Practice Edition 2 are able to efficiently navigate and dictate medical decision-making and treatment plans directly into a patient's electronic record and have experience substantially greater satisfaction than clinicians who use MicroMD EMR without Dragon Medical Practice Edition 2.
Dragon Medical Practice Edition 2 gives you the power to adopt your EHR more quickly, increase productivity, and produce patient records that reflect accurate coding even for the most complex interpretation of medical images.
Dragon Medical Practice Edition 2
Regardless of the imaging modality you use, Dragon Medical Practice Edition 2 was designed to work for radiologists to transcribe speech with more than 99% accuracy, ensure comprehensive patient records, and facilitate the ease of communication. Now you can interpret nuclear medicine imaging, projection radiography, or computed tomography and speak your notes directly into an EHR. Draft and send notes to referring physicians using simple voice commands that eliminate keystrokes and save you additional time each day.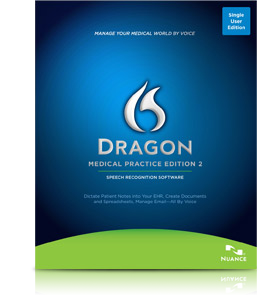 Dragon Medical Practice Edition 2 Features
More Accurate Than Ever
In clinical settings, Dragon Medical Practice Edition 2 is over 20% more accurate than the previous version and — and over 60% more accurate than Dragon Professional 12 when used in clinical settings.
Medical Vocabularies
Covers nearly 90 specialties and subspecialties.
Recognition Speed
Dragon Medical Practice Edition improves recognition response time significantly.
Regional Accent Support
Accented speakers get higher "out-of-the-box" recognition with advanced adaptation techniques and accent-specific acoustic models.
EHR Support
Navigate and dictate inside EHR software: History of Present Illness, Review of Systems, and Assessment and Plan.
Hidden Mode
Dictate anywhere in the EHR, eliminating navigation between EHR screens and the notes window.